11 Jan

2015 Team in USA!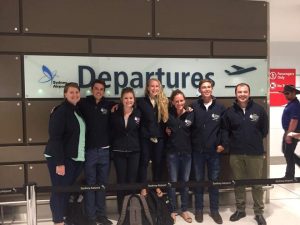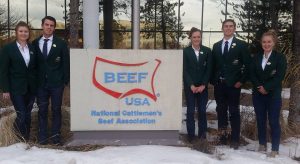 In late December the Australian National meat judging team headed over to the USA for a month of property visits, visits to abattoirs and feedlots and to compete in 2 competitions.
Thanks to coach Demi for her wrap-up of the first competition:
"First contest done and dusted and we have some fantastic results to report from the Southwest Invitational. Thanks go out to Texas Tech for putting on a great contest.
In the teams divisions we placed 3rd in Beef Grading, 3rd in Beef, 3rd in Overall Beef, 3rd in Total Placings and 3rd in Questions. We placed 2nd in Pork, with a single point separating us from first place. And……..we have taken out the Lamb Judging. Go Aussies!
We have some fabulous individual results as well with Anna White placing 3rd in Total Placings and Simon Kensit placing 4th in Total Questions. Simon also placed 8th in the individual overall section of the contest.
Well done guys, Tim and I are exceptionally happy with how you all went."
The rest of us are too. Well done team!
Second competition a huge success for our meat judging team!
Demi Lolback gives us another update on the team's success at the National Western contest:
"Well, once again, winning beef grading eludes us and we placed 5th, on a positive note though, there was only 105 points between 1st and 5th.
We place 3rd in Pork Judging and have WON Lamb Judging, Beef Judging, Total Placings and Total Questions. We went on to place 3rd in the Teams Total Contest. Champion effort from all 5 team members during training the past few weeks, it's certainly paid off. Thanks so much for your dedication, Tim and I really appreciate it."
Individual Results from the National Western include:
Simon Kensit placed 3rd in Pork Judging, 2nd in Beef Judging, 3rd in Total Placings and 3rd in Total Questions. Simon also placed 3rd in the Individual Total Contest.
Reuben Welke placed 3rd in Lamb Judging, 2nd in Total Questions and WON Beef Judging.
Anna White WON Total Placings with a score of 496 out of 500.
In the Alternates contest, Georgia Clark has placed 5th overall as an individual.
Jess McGrath placed 6th in Total Questions (unfortunately losing a tie breaker for 5th). Jess was also in another tie breaker for 10th place in the Individual contest, but this time she clinched the ribbon.
Congratulations to all, what a mighty effort!!!