08 May

The security and potential threats to the Australian grass fed beef market in the United States

US Trip Report by Macky Lawrence


With 10.5 million head of beef cattle in feedlots in the United States the beef market is heavily dominated by grain fed products (National Cattlemen's Beef Association, 2017). Nationally the US is the largest consumer of beef in the world with 24.8 kilograms of beef consumed per capita in 2016 (Organisation for Economic Co-operation and Development, 2017). There are two primary drivers for the prevalence of grain fed beef in the USA, (1) the majority of consumers prefer grain fed flavour and (2), the ease of production, as pasture based systems in the winter months of the year experience limited pasture growth, inhibiting the finishing of cattle in forage systems. Eligibility for grass fed beef in the US is defined by the United States Department of Agriculture (USDA) and occurs when "grass and forage are the feed source consumed for the lifetime of the ruminant animal with the exception of milk prior to weaning. Also, animals are unable to be fed grain or any grain by-products throughout the duration of its life" (Severe & ZoBell, 2011).

The large traditional consumption of beef in the US facilitates a specialist market of grass fed products for those consumers looking for an alternative to grain fed products. Figure 1 shows that the demand for Australian beef over recent years has continued to increase in the US (Meat and Livestock Australia, 2016). Australian grass fed beef is sought after for the quality, year-round availability and cost efficiency of the product. This is largely due to the difference in climates and the environmental constraints imposed on North American pasture systems, restricting pasture growth and quality all year round to grow and finish solely grass fed beef. Grain fed beef in the US is also seen as space efficient which becomes beneficial in highly populated areas (Severe & ZoBell, 2011). The image below shows Australian grass fed manufacturing beef products on display in a supermarket in Texas, USA.
Image captured by Macky Lawrence, 9/11/2017.
However, as seen over the year of 2016 and into early 2017, Australian exports of grass fed beef to the US have declined. The total volume of grass fed beef exported to America declined by 43% from the previous year in 2016 (Meat and Livestock Australia, 2017). This decrease in exported beef is a consequence of an increase in US beef production and a decrease in the Australian herd numbers, resulting in a drop in Australian slaughter and historically high prices.
A section of the US export market that needs to be examined is the recent share increase in high value chilled grass fed beef exports. Frozen grass fed beef exported from Australia is predominately made up of manufacturing beef used for further processing and is relied on heavily by the US for lean trim to mix with their own. The chilled sector is mostly made up of higher end cuts, such as loin steaks, that consumers are willing to pay the premium for (Meat and Livestock Australia , 2017). The percentage share of chilled grass fed beef product has risen significantly in the last ten years, increasing from 9% to 24% of the total volume of product exported to the US, as shown in figure 2 (Meat and Livestock Australia , 2017). This shows that there is an increase in demand for higher end Australian grass fed products in the US. The chilled grass fed beef export market to the US is still a key market to Australia; while taking a 28% overall drop in 2016, at 53,939 tonnes of shipped beef, it was still our second largest chilled beef export market making up almost 19% of our total chilled beef exports to all countries in 2016 (Meat and Livestock Australia, 2016). Below is an image taken in a Market Street supermarket on the 2017 USA Industry tour, of a higher end cut steak packaged and labelled as an Australian grass fed product.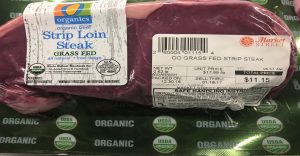 Image captured by Macky Lawrence, 9/1/2017.
The question is, is this very recent decline going to be representative of future years or will the grass fed market in the US expand and increase in consumer popularity?  Grass fed beef in the US being such a minor sector compared to grain fed beef may be referred to as a fad in some circumstances. A fad in this instance is a trend or craze regarding a sector of the beef protein diet that has short lived popularity and exists for a finite amount of time. There are numerous factors that can influence the longevity and demand for Australian grass fed beef in the US. These can include the change in markets and price of beef in both countries, other competitive countries that also have access to the US market, cattle herd numbers and costs of production. However, the main one is consumer preference for taste of grass fed beef and whether premiums are willing to be paid for these products. The value of the dollar can also play a large role in determining the US demand for importation for overseas products. These factors will determine if this specialist market will be a fad or a continuous and beneficial market for Australia in the future.
Brazil is a major competitor in the beef industry, with the second largest cattle herd in the world of 211 million head, and is projected to rise due to a decline in female slaughter numbers (Hyde, Thorpe, Waring, Moir, & Gunning-Trant, 2016). With a herd predominantly made up of Bos Indicus cattle, Brazil mainly targets the frozen manufacturing beef export market. This type of product represented 87% of the country's exports in 2014 (Meat and Livestock Australia, 2016). The country has recognised an issue with their beef and quality Angus genetics are starting to be introduced through artificial insemination. Carcase grading is also starting to be used for pricing and premiums for higher quality animals. This may pose a large threat to Australia's high end, quality grass fed products in years to come if Brazils quality does significantly increase. Brazil may also pose a threat to Australia, especially due to the similarity of production systems with both countries producing predominately grass fed beef (Meat and Livestock Australia, 2016).
A study carried out in the US indicates that 23% of consumers surveyed were willing to pay premiums for high quality grass fed beef products (Umberger, D, Calkins, & Killinger-Mann, 2002). This would be the particular sector of this niche market that Australia will need to target in order to differentiate its product from the less expensive product and high output threat that Brazil poses. As of 2016, Brazil gained access to the US; volume, however, is limited by quota and then a tariff for any volume exported into the country outside this quota. Future removal of this quota restricting exportation to the US may increase the threat Brazil presents to Australia and other countries (Meat and Livestock Australia, 2016). Australia may also be able to differentiate its product from Brazil through the differences in animal health and hygiene standards between the two countries. The prevalence of Foot and Mouth Disease (FMD) in Brazil is on the decline, with about 80% of the country free of FMD through vaccination. However, Brazil still has restricted access to certain markets through certain tariffs and quotas (Hyde, Thorpe, Waring, Moir, & Gunning-Trant, 2016). This could prove a good method to stay ahead of threats such as Brazil and market the integrity and superior health status of Australia's beef industry.
There are numerous opportunities for Australia to capitalise on future markets of the grass fed beef market. The demand of grass fed beef may fluctuate if the market continues to grow as indicated by previous years and, with the rise in Australian cattle herds and the subsequent decline in Australian cattle prices, the US may continue to import Australian grass fed beef. Agreements such as AUSTFA, the Australia United States Free Trade Agreement in 2005, will continue to allow high exportation of Australian beef into the niche market and potentially expand the grass fed beef sector in the US. Australia can differentiate its grass-fed beef by continuing to improve its quality of product through carcase quality based systems such as MSA
Figure 1: Represents the volume of grass fed beef in shipped weight value that was exported from Australia to the US from 1995 to 2016 and the proportion of product that was chilled or frozen. Sourced from MLA.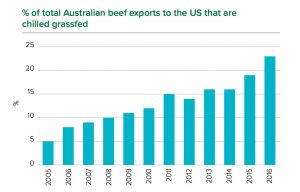 Figure 2: Represents the percentage of chilled grass fed beef exported to the US as a proportion of the total volume exported. Sourced from MLA.
References
Hyde, M., Thorpe, s., Waring, A., Moir, B., & Gunning-Trant, C. (2016). South America: an emerging competitor for Australia's beef industry. Australian Bureau of Agricultural and Resource Economics and Sciences, Department of Agriculture and Water Resources.
Meat and Livestock Australia . (2017, February). North Amercia Market Snapshot, Beef .
Meat and Livestock Australia. (2016). Australian beef exports; Monthly trade summary December 2016.
Meat and Livestock Australia. (2016, February). Industry Insight, Brazil Supplier Snapshot.
Meat and Livestock Australia. (2017, February 8). Australian beef exports to North America Monthly trade summary January 2017, Market Information.
National Cattlemen's Beef Association. (2017). Beef Industry Statistics. Retrieved February 2017, from National Cattlemens Beef Association: http://www.beefusa.org/beefindustrystatistics.aspx
Organisation for Economic Co-operation and Development. (2017). Meat Consumption (Indicator). Retrieved from https://data.oecd.org/agroutput/meat-consumption.htm
Severe, J., & ZoBell, D. (2011). Grass-Fed vs. Conventionally Fed Beef. Utah State University , Agriculture; Cooperative Extension.
Umberger, W., D, F., Calkins, C., & Killinger-Mann, K. (2002, September). U.S. consumer preference and willingness-to-pay for domestic corn-fed beef versus international grass-fed beef measured through an experimental auction. Agribusiness; An International Journal, 18(4), 491-504.