16 May

Meat in the Marketplace

US Trip Report by Chloe Gould

The days of the house-wife buying meat from a local apron-covered butcher are vastly different from today's society. Since WWII, in both the US and Australia, the way people buy meat has changed dramatically. Not only do consumers buy a multitude of different cuts of meat, they source meat from many different places. This change is highlighted in the US, with a broad range of outlets now retailing meat in different ways (from Wholefoods to gas stations). What lessons can Australia take from the US on new ways to cut, package and present meat for the consumer in the modern era?

Introduction

An increase in population and income as well as a change in lifestyle and dietary practices worldwide has contributed to revolutionising meat in the marketplace. A particular increase of health awareness and a perception for high protein diets has led to tremendous demand for readily available, particularly animal sourced, protein (Wu et al. 2014). With an ever increasing population, predicted to grow from the current 7.2 billion people to the predicted 9.6 billion people by 2050, global meat production will need to simultaneously increase to meet, and follow, customers' demands for protein (Wu et al. 2014).

In today's society we now see a vast range of diverse outlets retailing meat products, particularly in the United States (US) (Meat and Livestock Australia 2016). These outlets, much like the older style butchers; cut, package and present product for consumers, which is vastly different when compared to Australia in the modern era. Research indicates that the way people purchase this meat has also changed dramatically, with industry continuing to follow consumer trends. Australia has the potential to progress and strategically implement different ideas from the US to improve the meat industry and follow emerging consumer trends.

Meat Consumption Trends

Meat consumption in the US has continued to rise, with red meat representing the largest proportion of meat consumed (OECD/Food and Agriculture Organisation of the United Nations 2014). Whilst meat consumption in Australia has remained relatively stable over the past 40 years, the proportion of different types of meat consumed has changed dramatically. Traditionally, red meat would have taken pride of place in the centre of an Australians' dinner table (Meat and Livestock Australia 2015b), however, beef and sheepmeat (predominately lamb) represent less than 50% of the total meat consumed. The declining trends in red meat consumption have seen the industry develop Meat Standards Australia (MSA) to improve the eating quality consistency. The increased consumer trend towards alternative meat types has seen a four-fold growth in poultry (table 1), a doubling of pork and a halving of lamb consumption in Australia (Meat and Livestock Australia 2015b). The Asian influence also substantially influences the meat Australians eat and purchase. Given the Asian population has risen in Australia over recent decades, and Australians travel throughout Asia, Asian cuisine is very popular – and doesn't traditionally feature high end pieces of red meat, nor the traditional Sunday roast. The US differs, in this respect, as they have a much smaller Asian population (Asian Century Institute 2012) and whereby Australians tend to consume more fresh (80%) meat rather than processed (Meat and Livestock Australia 2015a), the Americans tend to consume a higher amount of processed meat (22%) (OECD/Food and Agriculture Organisation of the United Nations 2014).
Retail Outlets
The US has an immense population (324,706,920), (United States Census Bureau 2017) when compared to Australia (24,392,922) (Australian Bureau of Statistics 2016), which calls for a wide array and large quantity of retailers which offer meat products. The wealth of people in the US is typically more polarised meaning there is a wide array of types of retailers to cater for all income levels of people (i.e. Walmart versus Wholefoods). The range from high end supermarkets to petrol stations, offering a vast range of meat products, provides diversity regarding marketing strategies. Warehouses, including Costco and Walmart, retail meat in bulk proportions (ground beef and primals) for discounted prices, when compared to high end supermarkets (Image 1). Supermarkets, including Wholefoods and Market Street, offer customers a fast and alternate approach to purchasing meat. Meat is offered pre-packaged (portion size) in the meat cabinet or fresh from the butcher's cabinet (Image 2 and 3). Cuts are usually smaller in size and already marinated, trimmed and prepared for convenience (North American Meat Institute 2015). Market Street, a high-end supermarket, is renowned for its 'meals made easy' display, where there is wide range of both pre-cooked salad and veggie bars available to customers (Image 4). Market Street also offers customers extra convenience where they have coffee shops and café inside the supermarket. This allows customers to relax with their family whilst still being able to purchase their groceries (Market Street n.d
Australia is much more egalitarian, hence the bulk majority tending to shop at similar types of supermarkets (Coles and Woolworths). There are some high end supermarkets present in Australia however they are not prevalent or found in regional or remote areas. Meat is still retailed, presented and packaged (predominately on tray with plastic over wrap) much more traditionally in Australia with customers purchasing meat from their local butchers and supermarkets.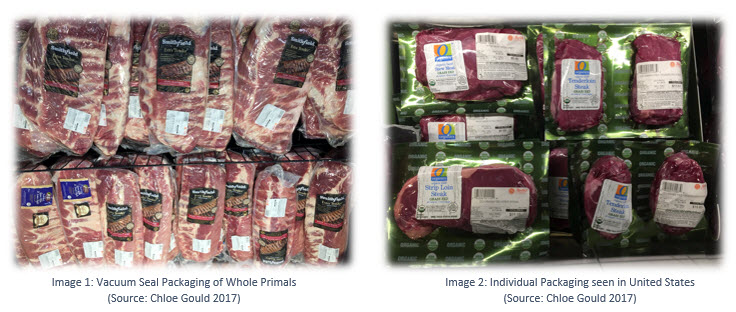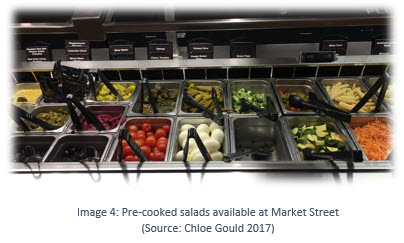 Consumers Demand – Readily Available Protein
The consumer demand for readily available protein snacks in the United States, in particular jerky, snack sticks and various other processed meats, is an increasing trend evident at petrol stations through to high end supermarkets. Larger petrol stations in the United States have significant demand and sell processed meat to consumers, from a butcher's cabinet or pre-packaged, giving customers the opportunity to purchase their desired amount of each product (Wiley 2015). The demand for readily available protein, such as jerky, is much more of a boutique item and therefore significantly less produced than the United States; however, this may be a future value added avenue for Australia if consumer trends follow the United States.
Meat Cuts and Use
The United States utilises a vast amount of different meat cuts, used for various reasons, when compared to Australia. Beef, lamb and pork carcases are also significantly larger in the United States thus, producing larger sized meat cuts. There are four major (primal) cuts to which beef in the United States is separated, including: chuck, loin, rib and round. For customer simplicity, the United States recommends the label on the packaging of fresh beef purchased in supermarkets to have the primal cut as well as the product. For example round steak, from which then consumers can identify the best cooking method (USDA Food Safety and Inspection Service 2015).
One cooking method that is very popular and has had significant influence on the meat industry in the United States is the American style low and slow BBQ.  In Australia there has been an increasing trend towards this cooking method as the younger generation seeks unique experiences and embraces the fattier styles of meat as healthy fats (Meat and Livestock Australia 2016). These secondary cuts; beef -briskets, skirt steak, cheeks, pork shoulders and ribs once had very little retail value however now can be retailed at similar value to steaks (Tucker-Evans 2016). These secondary cuts are readily available and can be purchased vacuumed packed out of the local supermarket's meat cabinet. Comparably, in Australia secondary cuts, such as whole briskets and pork shoulder, are not readily available at the local supermarket as the everyday consumer is much more reserved and less likely to purchase a whole cut of meat.
 Labelling and Branding
The way meat products are packaged is not only important for the retailer themselves, but also the consumer. The way a product is displayed or packaged plays a vital role in ensuring it is an attractive and informative product of both fresh and processed meat (USDA Food Safety and Inspection Service 2015). Nutrition and brand labelling are widely used in the US to market product to consumers. 'Natural' is one major marketing label that is used widely. All fresh meat qualifies as natural as long as the product does not contain artificial flavour or flavourings, colour ingredients, chemical preservatives, or any other artificial or synthetic ingredients. The natural label standard is defined by a USDA definition however there are varying interpretations at retail level around how it is used to market meat (USDA Food Safety and Inspection Service 2015). This is a marketing label that clearly influences consumers' perception and consumers are willing to pay extra for a speciality product that they feel will benefit their perceived lifestyle and diet. Additionally, in recent times, consumers have become aware and concerned about meat quality. They have become less trusting of food processors due to recent meat scandals, for example chipotle, and therefore shift towards more transparent processing and packaging (Marcel 2015).
Packaging
Case ready and vacuum-sealed packaging has become the predominate packaging for retail in the US. The product can be delivered to retail outlets from central facilities, where it is already cut and individually packaged, to meet consumer demand. Therefore, products can be taken directly from the box and placed into retail display cabinets. This removes the requirement for butchers at retail outlets, which are not only hard to find but also expensive. It also allows employment of lower skilled labour that will be able to put the packaging straight onto the shelf. Ultimately this creates spaces which may be used for merchandising meat products, rather than utilising behind the scenes space for holding inventory before it is cut into individual portions and packaged (Pelletier 2005). Case ready and vacuum-sealed products have an increased shelf life when compared to the more traditional packaging methods, such as a foam tray with plastic over-wrap. They also tend to 'survive' better being freighted around through the distribution channels. Additionally, it allows retailers to order cuts and products that are best suited to their market, rather than receiving whole carcases or primals that may contain cuts that may not sell as well (Pelletier 2005). A trend towards both packaging methods in Australia is present, however, the use of trays with plastic over wrap still dominates in some supermarkets. In high end supermarkets, meat is also retailed from butchers' cabinets in the US, where the display of fresh product is key. A common trend in the US is the use of black material under each individual piece of meat in the butcher cabinet. This presents a visually appealing display as the black emphasises the cherry red meat colour and highlights the white marbling. This is a strategic method utilised by retailers in the US, which could potentially be implemented in Australian butchers to improve meat presentation.
 Conclusion
In order for the Australian meat industry to follow emerging consumer trends and continuously evolve it needs to strategically implement new ideas. These new ideas can be formed from observing the major trends in the US. The trends that currently influence Australian consumers are seen in developed countries worldwide. A vast proportion of the population today lives a busy lifestyle, with smaller household sizes, which has increased the demand for more convenient food options, thus conveniently packaged meat products and portion sized. A movement towards case ready and vacuum sealed products in supermarkets, rather than plastic over wrap, will provide retailers and consumers with a wide range of benefits. Additionally, Australia could potentially improve their presentation in butcher cabinets by implementing a similar approach to what is seen in high end supermarkets in the US, which has the capacity to make the product more visually appealing. New trends, as the younger generation continues to seek new and unique experiences, will influence the demand for a variety of meat products especially in supermarkets. The Australian meat industry will need to continue to educate the population to ensure consumers value the products.
Refernces
ABARES 2014 (Australian Bureau of Agricultural and Resource Economics and Sciences), Agricultural commodity statistics 2014, http://data.daff.gov.au/data/warehouse/agcstd9abcc002/agcstd9abcc0022014/ACS_2014_1.0.0.pdf
Asian Century Institute 2012, Asian Migration to Australian http://www.asiancenturyinstitute.com/migration/214-asian-migration-to-australia
Australian Bureau of statistics 2016, Population Clock, http://www.abs.gov.au/ausstats/abs%40.nsf/94713ad445ff1425ca25682000192af2/1647509ef7e25faaca2568a900154b63?OpenDocument
Daniel, CR, Cross, AJ, Koebnick C & Sinha R 2011, 'Trends in meat consumption in the United States', Public Health Nutrition Journal, vol. 14, no. 4, pp. 575-583.
Marcel 2015, Insight: Meat Processing, consumer trends and case ready, https://marel.com/files/pdf/newsletter/insight_meat_vol5_aug2015.pdf?ind=meat.
Market Street n.d., https://www.marketstreetunited.com/.
Meat and Livestock Australia (MLA) 2015a, How much meat do we eat?, http://www.mlahealthymeals.com.au/meat-consumption/how-much-meat-do-we-eat/.
Meat and Livestock Australia (MLA) 2015b, Meat consumption trends, http://www.mlahealthymeals.com.au/meat-consumption/meat-consumption-trends/.
Meat and Livestock Australia (MLA) 2016, Market snapshot- Australia,  https://www.mla.com.au/globalassets/mla-corporate/prices–markets/documents/os-markets/red-meat-market-snapshots/mla_australia-market-snapshot_may-2015.pdf.
North American Meat Institute 2015, Case-Ready Meats Modified Atmosphere Packaging, https://www.meatinstitute.org/index.php?ht=a/GetDocumentAction/i/93528.
OECD/Food and Agriculture Organisation of the United Nations 2014, OECD-FAO Agricultural Outlook 2014-2023, OECD Publishing, France, http://www.keepeek.com/Digital-Asset-Management/oecd/agriculture-and-food/oecd-fao-agricultural-outlook-2014_agr_outlook-2014-en#page4.
Pelletier, B 2005, Case-Ready meat is hitting stride, https://www.packworld.com/machinery/multipackers-amp-shrink-wrappers/case-ready-meat-hitting-its-stride.
Tucker-Evans, A 2016, 'Slow cooking: Trend causes meat price hike', The Courier Mail, 12 May, http://www.couriermail.com.au/lifestyle/food/qld-taste/slow-cooking-trend-causes-meat-price-hike/news-story/a4b07d244529f6275514e301ce837e0a?nk=718854c0785fa60ab8dff633555521d9-1488091327.
United States Census Bureau 2017, U.S. and World population Clock,  https://www.census.gov/popclock/
USDA Food Safety and Inspection Service 2015, Beef from Farm to Table, https://www.fsis.usda.gov/wps/portal/fsis/topics/food-safety-education/get-answers/food-safety-fact-sheets/meat-preparation/beef-from-farm-to-table/ct_index.
Wiley, C 2015, Protein trend proving a benefit to meat snacks, http://www.fooddive.com/news/protein-trend-proving-a-benefit-to-meat-snacks/403889/.
Wu, G, Fanzo, J, Miller, DD, Pingali, P, Post, M, Steiner, JL & Thalacker-Mercer, AE 2014 'Production and supply of high quality food protein for human consumption: sustainability, challenges and innovations', Annals of the New York Academy of Sciences, vol. 1321, pp. 1-19.