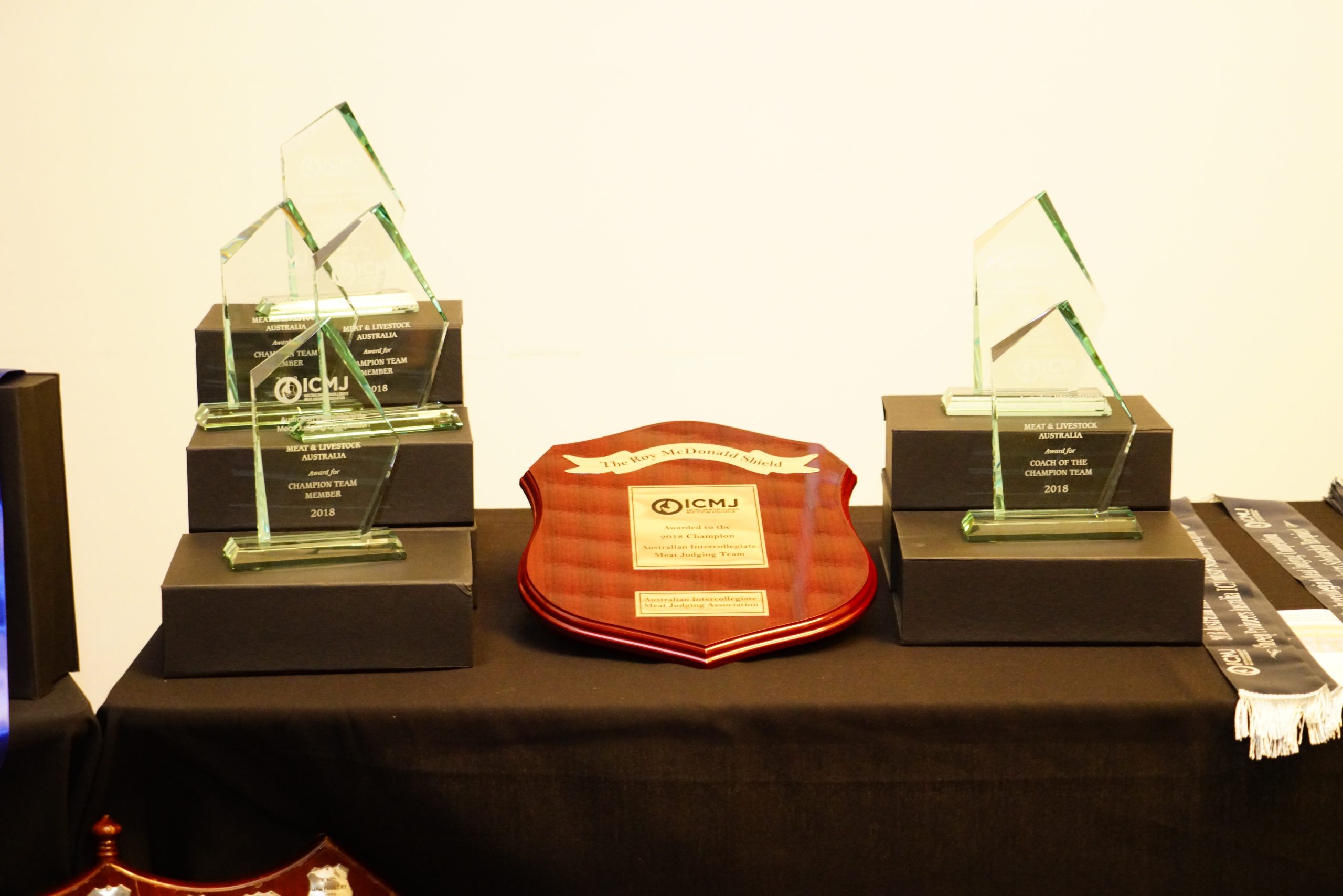 11 Jul

2018 ICMJ Wagga Results- Colorado State University takes Top Honours!

CSU Wagga Wagga and Teys Australia hosted the annual competition last week featuring 11 Australian Universities, and four international teams.

Colorado State University has claimed top honours at the Intercollegiate Meat Judging (ICMJ) competition for the first time in the program's 29-year-history.

Overall the week-long competition which kicked off on Tuesday July 3, and finished up with an awards dinner on Saturday July 8, attracted 130 students and 35 coaches from across Australia, Japan, Bogor, America and Korea.

The University of Sydney took out Runner Up in the Team Awards, trailing category winners, the Colorado State University of Sydney, by just 85 points.

Colorado State put in a standout effort to take out the Roy McDonald Shield for champion overall team, with their own Brett Meisinger also claiming the Founders Buckle for champion individual.

Overall runner-up and multiple award-winning University of Sydney student Jack Cook placed just 17 points behind the winner, making one of the closest contests to date.

ICMJ President Dr Peter McGilchrist said the US team's achievement was testament to their dedication to learning about Australian red meat production. He was also very pleased with how close the competition was, with many of the placings requiring a "count back" to determine the winner.

"Our program has absolutely achieved our goal of inspiring and developing future leaders of the global red meat industry," he said.

"This year was a great contingent of students who posed the most thought-provoking questions we've ever had to our presenters, interacted heavily with companies at the careers expo and took full advantage of every opportunity."

"The students and their coaches are clearly committed to a career in the global meat industry"

Dr McGilchrist also mentioned the success of ICMJ would not occur without the continued support of our major sponsors, including MLA, AMPC, APL, Teys Australia, NH Foods, JBS / Andrews Meats, AACo, Rivalea, GradLink and Coles.

The top 10 finalists and the Coach's pick teams will go on to participate in an industry training week with Meat and Livestock Australia staff in Brisbane in August.

Student feedback from the week was that it "opened their eyes" to the possibilities within the Australian red meat industry.

"We learned so much more than we could have imagined," the group of Sydney University students said.

"The networking not only among industry professionals but also peers was really beneficial.
Finalists Selected for Industry Training Week in Brisbane
Nikita Ellison Top 10 Finalist University of Queensland
Maddie Close Top 10 Finalist University of Sydney
Stefano Spissu Top 10 Finalist Murdoch University
Felicity Brumpton Top 10 Finalist University of New England
Jessie Phillips Top 10 Finalist Charles Sturt University
Johanna McAuliffe Top 10 Finalist Charles Sturt University
Jack Cook Top 10 Finalist University of Sydney
Lauren Smith Top 10 Finalist Murdoch University
Jess Davis Top 10 Finalist University of Sydney
Crystal Greenwood Top 10 Finalist Murdoch University
Coaches XI selected for Industry Training week in Brisbane
Dana Walkington Coaches XI Central Queensland University
Hannah Thorson Coaches XI La Trobe University
Thomas Little Coaches XI University of Queensland
Alice Paton Coaches XI University of New England
Julia Bouckley Coaches XI University of Melbourne
Kellie Wenham Coaches XI University of Adelaide
Will Boyd Coaches XI Marcus Oldham
Brittany Bolt Coaches XI Murdoch University
Nat Bell Coaches XI University of Sydney
Georgia Howell Coaches XI Charles Sturt University
Following the industry training week in Brisbane five students from the top 10 finalists will be selected for a tour of the American meat industry in the New Year.
FOR A FULL LIST OF AWARD WINNERS, CLICK HERE